Our School
About
École Meridian Heights School is a large K-9 school with over 700 students, but it feels like one big family. We aim to nurture student development through a well-rounded learning environment, surrounded by extracurricular activities and social responsibility.
Motto
Be the best you can be.
Avant tout, fais de ton mieux!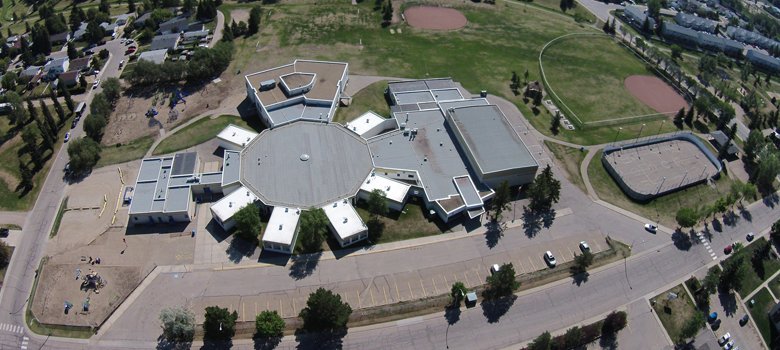 By engaging students in meaningful ways, we aim to live up to our motto of Be the best you can be! or Fais de ton mieux!
While students have rights - the right to learn, to be respected, and to be safe - they also have responsibilities: to work hard, to respect others and to get involved. Student engagement is high at EMHS.
What do parents say?
They love our staff. They love our focus on learning, but that we offer so much beyond the classroom. They love our safe and caring environment. They love the communication between staff and home. They love our bilingual culture.
What do students say?
They love our staff, and like how we guide them to be their best. They feel safe and cared for. They feel that we live by the motto that "healthy learners are better learners". They love the many opportunities to get involved in clubs and activities.
Unique Features of Our School
Well-established dual-track English and French Immersion programming
 
Use of the Seven Habits of Highly Effective People - we have a positive vibe in our school
 
Dynamic, dedicated, ever-learning staff
 
Outstanding music program with award-winning choirs
 
High expectations for courteous and respectful student behaviour
 
Exceptional running programs: Over 100 children participate in cross-country, Terry Fox, Running Room Games, Vancouver Sun Run, and more
 
Wide range of CTF options and extracurricular programming such as Foods, Digital Coding, Outdoor Education, Drama, Visual Arts, Dance, Volleyball, Basketball, Badminton, Skiing/Snowboarding, Running, Track & Field, Google Exploration, Musical Theatre, Aesthetics, Media, Jump Rope, etc.
 
A focus on Wellness, especially in the area of physical literacy, healthy eating, and social belonging
 
Outdoor experiences: camp for Grade 6 students, canoeing for Grade 7, and mountain hike for Grade 9
 
Live professional musical or dramatic guest performances for all (Meridian Live)
 
Quebec trip for Grade 7 and 8
 
Student volunteerism and social justice; annual trip to WE Day in Calgary, many community initiatives
 
Improved access to technology tools; we are now a BYOD school for Grade 7-9, with an almost 1:1 environment for Grade 4-9
 
Strong voice for our students and parents: Student Council and School Parent Council are well attended
 
Celebration of our French language and culture through Francofête
 
Effective environmental club, AMA Safety Patrol, DARE and other RCMP partnerships
 
Early literacy support program for students in K-3 in French and English
How We Define Success For Our Students
We recognize that students accomplish their personal best through diligent efforts in our broad range of academic and non-academic pursuits. In addition, we believe we are successful at the school when there is significant interaction between students and staff. Every student needs to have connections with others.
What We Are Most Proud Of At Our School
We are proud of the many opportunities provided to students to build positive relationships. We believe that a safe, healthy and caring atmosphere provides a solid learning environment. We are proud of the high level of parent volunteerism and staff dedication. Students benefit greatly from this teamwork.
We are proud to be a dual-track French Immersion and English school. Over 85% of our students study French in one way or another, and we delight in regular celebrations of our bilingual environment. We have excellent results in Language Arts in both languages.
Finally, we are particularly proud that Meridian Heights' students are known as being responsible and courteous citizens, both within the school and the community. Our students are leaders and we are very deliberate about giving all of our students opportunities to show leadership.
Meridian Heights celebrates 47 years as a solid learning environment within the Town of Stony Plain. Our Meridian Magic is alive and well.
Attendance Area