Back to all posts
Posted on
Get a Head Start on the New School Year!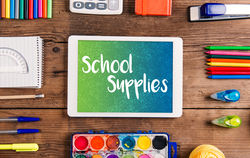 We've posted important information about the supplies your child will need for the coming school year. You can get a head start on purchasing supplies for fall by visiting our Supply Lists & BYOD page, and then enjoy your summer with the knowledge that you have everything you need.
Staples School Tools Offer
EMHS school supplies are also available for purchase at www.staplesschooltools.ca - orders over $50 get 10% off, and 3% of all funds raised are returned to the school. Once on the Staples site, use the search bar to look up "Meridian Heights", then select your grade from the list that appears. Online orders can be shipped to your home or to the Staples store in Spruce Grove (70 McLeod Ave Unit 142).
Happy shopping!


For more information contact:
École Meridian Heights School
Phone: 780-963-2289
Email: meridian@psd.ca